Happy Monday, gang just a little bit of housekeeping to get out to you today.
First, I'm happy to announce that we're upgrading our communication channels. The gym is going through a growth phase right now, and we want to centralize communication so that we can respond to you and get information out quicker and more efficiently.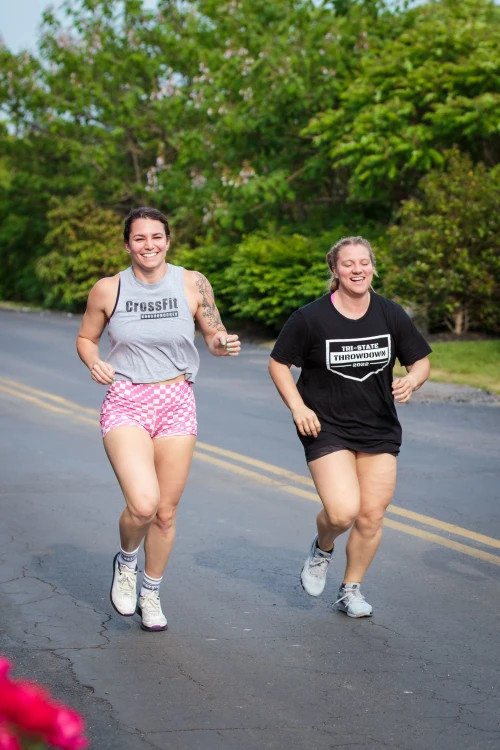 Since this email is kinda boring, and really just about communication, here is a picture of Emma and Lauren sharing a laugh, they had to communicate to make this happen, so there – its relevant!!
Phone Contact: the gym's old number 215-873-1049 has been phased out and removed from the website. Our new number is 610-756-9399. You can call and text this number, and it's monitored by myself and Coach Travis for now, with Sara M jumping in soon to help.
We also had a text hotline 610-609-8382, this was the number that you'd get a random "Happy Birthday" text from but usually little else, unless you hadn't been to the gym for a while. This number is now dead.
When to text. In today's day and age, everyone texts, some folks only text, it's crazy. I'll tell you right now, the text line is hot. We have new members and leads coming through for price requests and marketing campaigns set up through the business phone number, so it's pretty active. For purposes of the gym, you should consider texting if you have something that is NOT critical like:
Hey, did I leave my grips?
Is anyone there I want to come in before 4:30 class and get some bench press in.
Just like your texts, our texts get pushed down as the day moves along and newer texts pop in. If you have something critical, please email us. We DO NOT MISS EMAILS. Membership requests for changes, holds and cancellations may not be responded to if sent via text as they may not be seen, so please email them.
To make this even easier, we now have a centralized inbox that is monitored by our full-time staff. The new email address and the gym's main point of contact is,
Over the next few emails you receive, you'll start to notice this address in the from line, so please add it to your contacts so it doesn't get pushed to spam. The email [email protected] is still good too if you want to use that.
Side note – making phone calls is still a thing, so if you call the new number we will answer if we can, and even call you back if you leave a voicemail!
In summary
The following numbers are no longer in use and will not be responded to.
215-873-1049
610-609-8382
Please use the new number
610-756-9399
Or the new email address
The best form of contact for anything gym related is usually email.
We also wanted to a moment and drop two quick reminders. This stuff goes out to new members in their initial welcome emails, but occasionally, we like to remind our veterans of why this is important too. Please help us out in these two areas if you aren't already, thanks.
Signing Up for Class
One of the things that sets us apart from other gyms is our focus on providing you with the best quality experience possible. A big part of that involves keeping the class size manageable and making sure we have enough coaches on hand. For us to keep our part of the bargain, we need you to do your part – which means please sign up before class using WODIFY. Our class sizes are capped so if you just show up without signing up, you may not get to take the class. Please make a habit of signing up in advance using the WODIFY app.
Entering The Gym
When entering the gym, please use the main entrance. Sometimes the bay doors will be open, but don't walk in that way. We have mats in place in our lobby that capture a lot of parking lot dirt and debris, and that helps keep our gym floor clean. If you walk in through the bay doors you could track glass or mud, and no one wants that. There is clear signage out front that directs you to the proper entrance.
Thank you