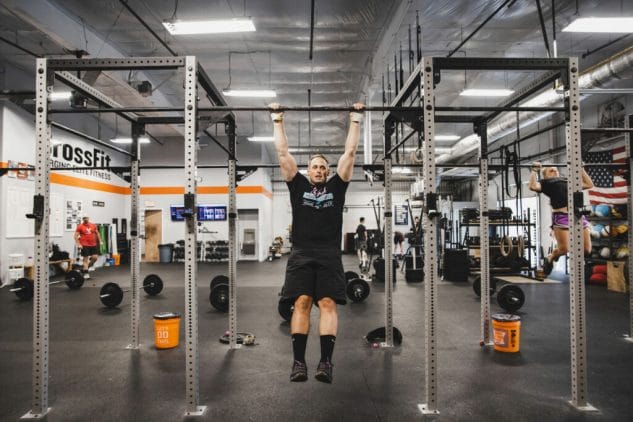 The marquee event of the year at most CrossFit gyms is the CrossFit Games Open.  It's been going on since 2011 and each year has gotten bigger and better.  For some, yes, it's a competition stage to qualify for the CrossFit Games.  For 99% of people, it's a chance to prove that they have improved themselves!  And it couldn't be more fun!
To get all the details – check out this article
Sign up officially for the No Bull CrossFit Games Open
Intramural Open – CFC
Regardless of whether your sign up to do the official CrossFit Games Open or not, we still urge you to sign up our Free in-house Intramural Open. This captures the most fun of the event and limits the pressure of registering, submitting scores etc.
It all starts with you registering for our Intramural Open by signing up on the white board at the gym (starting January 9th). As registrations roll in, we will divide everyone up into 4 teams, captained by some of our most seasoned CrossFit veterans. Once teams are set and workouts begin, it's quite simple. You earn a point for your team by simply doing the workout and submitting your score sheet. Based on how you do in your division each workout, you can earn additional points. If your team brings the most spirit in any given week then your team receives extra points. So, say you aren't the best athlete in the gym. No big deal. Complete the workout and bring tons of spirit and you might make the biggest point contribution in the gym! Folks, it's totally normal to be a little nervous. But then again, you were all super nervous the first time you walked through our doors, and you know how well that worked out. So, make the leap, trust in us, and get ready for an amazing time!
New folks – YES, you should sign up. We'll be right there to help you along the way. Years from now, you'll look back and remember your "First Open", don't miss the opportunity to make a benchmark for yourself NOW. All workouts are totally scalable and plenty of people will scale!
Folks coming from other gyms – YES you should sign up. Did you have a bad experience before? Was it super competitive? Was its super "Kumbaya" and everyone got points for costumes and whatnot? Our Open is different, give it a shot and sign up!
Competitors – YES, you should sign up. You train to be competitive in the sport of CrossFit, don't watch from the sidelines when the time comes to prove your fitness.
Additional info about The Open at CFC
Signing up officially for the CrossFit Games is your choice and is not required to be part of the in-house fun! I highly encourage you to sign-up, it's a great way to chart your fitness journey and compete with friends from other gyms and locations.
The Open will be hosted at all Friday class times on February 17th, February 24th and March 3rd.  All members are encouraged to make classes on Friday whenever possible.  Evening's sessions will be highlighted with DJs, rolling heats and weekly socials during and after the workouts.  Show up for the evening event if you can!  There will be no re-dos or make-ups without permission from a coach.
Why Should I Do This If I'm Not Going to the Games?
First pull-ups, cheering, memories — that's all well and good, but still: "I'm not a competitive athlete," you might say, "so why would I do this?"
We hear you, and we're here to tell you that we hear that a lot. But that's like not signing up for a marathon because you won't finish in the top five or qualify for the Olympics. There are many benefits to completing the event independent of where you finish.
If you're not in it to win it, the Open is a way to check in on your fitness, hold you accountable to moving forward and staying motivated for the upcoming year, accomplish personal goals, and celebrate with the community.
Stay tuned for more info on how we'll be running this year's event here at CFC!  For now, just get ready to sign up.